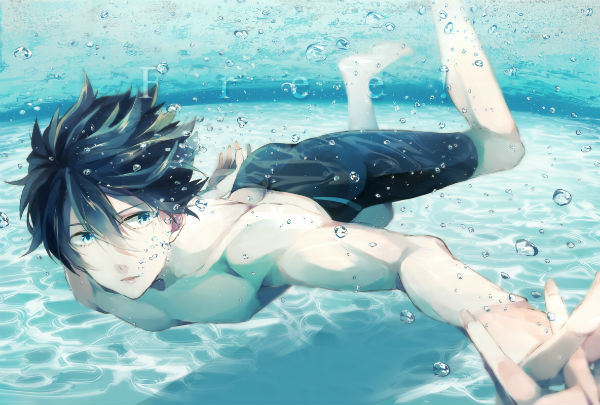 The Basics!
Name:
Jake [Neko]  
Birthday:
16/08  
Age:
18  
Gender:
Male  
Element:
Water  
Appearance!

Height:
5ft3  
Weight:
48.5KG  
Hair Color:
Black  
Hair Length:
Short  
Eye Color:
Blue  
Skin Color:
White  
Body Type:
Athletic  
About You!
Personality
Due to his zest for life his personality allows that to flow through speaking as if he himself could give life. Hateful against those who take lives he is reluctant to do so himself unless it is truly needed to save many hence assassins who have taken lives without just caus are an easy kill for the lover of life. Caring and compassionate he likes to look after people and help them through there power's. Something that he loves to do.  This is only one half of his personality a front that he follows up his true personality is built upon power. Finally like every human being he has and goes through every emotion that human's fell. Love happiness sadness etc. The only emotion he doesnt seem to feel is envy never once being jealous of anyone to be honest. When life gets him down Jake can easily over come any obstacles to pick himself up again. When this happens he will allow his full range of emotions to over take him most likely becoming "to happy" or "to sad" Suicidal tendencies can happen.
A male of many likes to much to write down. A simple few would be due to the fact that the man is gay he likes other men. he loves being underwater and performing thus showing a slightly cocky attitude, Never arrogant but always the clown most likely due to his circus like background. He enjoys working and loves to watch people laugh. Despising people who hurt other people his new ideal is to join the police force. But a personality can change dramatically what will happen when he hears the truth of his heritage and how his true parents died? You see when his boyfriend was murdered by his adoptive father the demon Jake keeps within was released, His entire form and personality changing becoming something of a well demon
Likes:
Jake adores penguin seals, There cuteness rules over all. A water bender of taste he despises most water bending cuisine like the seaweed noodles his family used to make while enjoying roasted squid and deep fried octopus. His most desired food is roast hog bear. The succulent meat upon the fierce animals make his mouth drool yummy!. He loves watching people smile and adores when something cute happens or when someone shows humanity is not all bad men and thieves.  
Dislikes:
Almost every water bending dish ever created using seaweed noodles and other plant like things. He despises vegetables yet he keeps his body! Jealous? He doesn't really care for the sharkodiles the monstrous sea creatures destroy the beauty of the sea upon there rampages. He despises dishonor and major liars [White lies are ok]. Thieves scum murderers rapists, People like that show why Jake adores the water.    
History:
Within the water bending tribe of the southern nation those born with hair as black as the moonless sky upon the day that the full moon is closest to the earth are said to have powers so great that even the avatar's strength of the water element would not compare. They are also said to be demons whose presence upset the water spirit, This is contradictory to the legend of the child born with hair as white as snow believed to be the vessel of a new spirit.  Upon that day that rarely any children are born upon was a single child. Hair as black as the moonless sky and eyes as blue as the sea from which he would grow to adore, Jake Kosac was born. Of course being as strong as the avatar in the given element is just a story and would have to be tested at some point but the southern water tribe believed it. Legends and myths are hard not to believe if your ancestors believed it themselves. So upon his birth he was believed to be a demon whom would bring destruction to there land. Villagers swarmed upon hearing the news of his birth. The doctors whom delivered him had already tried to destroy him upon entering the world. His father had saved his life murdering the doctor's who dared to harm his precious son legend or not a parents bond is stronger than almost anything in this world. Forced to flee his mother and father were soon murdered for helping the demon boy but not before they managed to find someone to take there child from this place. A traveler from a circus whom after hearing the parents plead beg and cry agreed to take the child.
Naturally the water bender of such natural talent knew nothing of this for he was simply a new born, His adoptive father a bender of the earth known as Hiruko Kurozon knew of his parents murder and though he fully intended on revealing the truth to this boy one day felt it better not to after hearing this news. Thus Jake was raised as a Hirko his mother having gifted him the middle name Neko something Hiruko honored. A man of true courage and admiration. Hiruko was the ringmaster for a traveling circus, A circus that Jake was trained in. He was the gymnast starting at the age of 8 and became a rather well known face to those whom loved the circus. His flips and movements combined with his natural talent in water bending were flawless he became rather unique in a way having created a fighting style revolving around the power of water bending and gymnastics.
At the age of 15 Jake would find heartbreak due to Hiruko. 15 years old Jake came out as gay, Having been secretly dating a 17 year old male fo several months. Hiruko found out and the true fear would erupt. Hiruko was a homophobe and could not understand what he did wrong making slips of Jakes real parents were to blame. Naturally Jake simpyl though he was making things up to hurt him. It was upon his 16th birthday when Kai Jakes boyfriend was brutally murdered by his step father, The murder ending in Jake watching his lover being beheaded. It was here the demon would be released so to speak.  His father would soon learn the true meaning of fear before his death, His second beheading would be watched though this time the beheader was Jake himself. Upon returning to his senses it was as if he had no recollection. His father and lover dead Jake tumbled into an endless spiral of depressing taking up alcohol, for 2 years of his life he was an alcoholic.
At 17 almost 18 Jake was nothing like he used to be but one day a female known as Kiara noticed him recognized him as the Maginificent Jake a name long abandoned, It seemed she had been an assistant and Jake had never known. She had been looking for him and granted him his fathers will thus making JAke somewhat wealthy. But he had everythign off his fathers and it would have been blonw on booze had Kiara not taken him under her wing. Her kind nature taking effect allowed him to get clean and sober. His fathers stuff was placed in storage letters explaining his true heritage now collecting dust untill he had a reason to rummage through his fathers things. At the age of 18 Jake began to practice his water bending every day properly his natural talent never fading. He had decided to become a police officer. Now living within Dochuu City
Rp Sample:
Faceclaim:
Nanase Haruko