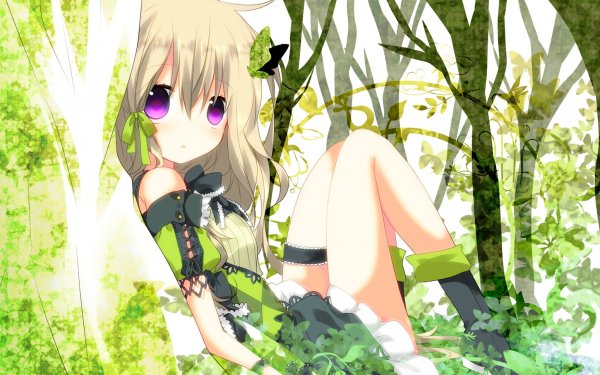 The Basics!
Name:
Mei Ling Jiang
Birthday:
August 27
Age:
10
Gender:
Female
Element:
Earth
Appearance!
Height:
51 inches
Weight:
70.4 pounds
Hair Color:
Blonde
Hair Length:
Long
Eye Color:
Purple
Skin Color:
Creamy White
Body Type:
Slender
About You!
Personality:
Mei Ling is a child capable of taking care of herself despite having been blind since birth. She's very naive about how the world works, or how some things work due to her blindness. But this doesn't mean she's someone that could be easily manipulated by others. She doesn't see anything in black or white, but rather in a shade of grey, which clues into the fact she doesn't believe in either good or evil. Mei Ling is very intelligent, and has found a way to read on her own, though it requires people to actually write things down on earthy matter so that she could see it.
Likes:
Mei ling tends to appreciate those who don't pity her because of her blindness, and those who at least let her try to do it herself before helping. Candy is something she's rather fond of, and she likes dubbing people with nicknames. She tends to call those who she especially likes either brother or sister, depending upon their gender.
Dislikes:
Mei Ling doesn't appreciate it when people believe her to be weak because she's blind, nor does she like it when people believe that she's not capable of taking care of herself. She especially doesn't like it when people take pity on her because she's blind, and shall even tell them not to feel sorry for her.
History:
Mei Ling was born the youngest within the Jiang household, having three older sisters and two older brothers. Unlike her siblings, who were born with beautiful green eyes, Mei Ling was born with purple eyes that were unfocused. It was later told to her parents that Mei Ling was blind, thus starting her rather protective and heavily monitored life. Yet she was born blind, she was lucky to have been born into such a prestigious family.
Many things were different for Mei Ling due to her blindness, but her parents were sure not to smother their daughter. It was lucky that they didn't need to worry very much since their daughter could see in her own way. She was taught the same lessons as her elder siblings, but everything had to be modified in order for her to read it. Mei Ling spent her freetime in the garden, and also practicing her earthbending, showing a desire to see the world outside of her home.
Yet that day wouldn't come for quite sometime, until than she would receive earthbending lessons from her siblings until her tenth birthday. Security had been tighten around Mei Ling when she was 6 due to her almost being kidnapped, which somewhat annoyed her to no end. But nothing actually changed except for the fact she was accompanied into town by one of her elder siblings. Security would be relaxed two years later, her parents deeming that she was now safe from about any threat from the outside world.
Mei Ling was excited upon her tenth birthday, now finally able to see the world outside of her house. Her first visit was going to be to the Earth Temple, having grown bored of the city that she lived in. Her brother accompanies her, but doesn't get in her way.
RP Sample:
"D.A.R.P.A.," Mei Ling muttered to herself, walking down the streets of the Fire Nation. She clenched the paper in her hand tightly, looking about as she made her way through the bustling crowd. It was sure rowdy today, but that would be expected since most within the crowd had just left the speech the Fire Empress had delivered. All around her she heard what the adults said about the speech, some praised the Empress whilst other critized the newly established rules. Either way, Mei Ling found no reason that she should have a say about the Empress speech. She actually was unable to hear the speech, having missed it due to some complications that she had, but wished she had been there to witness it. Even though she was young, Mei Ling knew that this day would go down in history. And only time would tell on how it would be view by those many years from now. Would people view it as the greatest thing that ever happened to the nation, thus singing the praise of the Empress? Or would they remember it as something that should had never happened, thus shunning the Empress and remembering her with disdain?
Mei Ling frowned a bit. Thinking about how the Empress would go down in history had her thinking about how she would go down in history. What kind of Avatar would the people remember her as? Would she had been at the side of the Empress as she struck down those who opposed her? Or would she be the one to band with the other Avatars in order to stop the Empress? So many things were on her mind that she hadn't notice arriving to her destination, the headquarters of the D.A.R.P.A..
Her gaze was filled with both surprise and amazement, Mei Ling nearly lost the piece of paper in her hand. But her composure was regain and she walked into the building. Everything looked so strange as she walked up to the desk, her eyes dancing about the place in wonderment. Her mind hadn't been paying attention to what was in front of her, a sharp pain in her side brought her eyes to the front of the room. She could feel her cheeks grow hot as she realized that she had the misfortune of running into the desk.
Mei Ling wanted to get things over with quickly, so she placed the paper onto the desk and looked innocently at the one behind it. "I would like to sign up for Camp Zaag,," Mei Ling stated boldly, her eyes filled with determination. She suddenly had the need to finish the camp before the time the Empress had predicted. Her mind was unable to find out how the thought sprung into her head, but it wasn't going away anytime soon. Something within her mind told her that she would need as much nerve and courage that she had in order to complete Camp Zaag.
Faceclaim:
Google